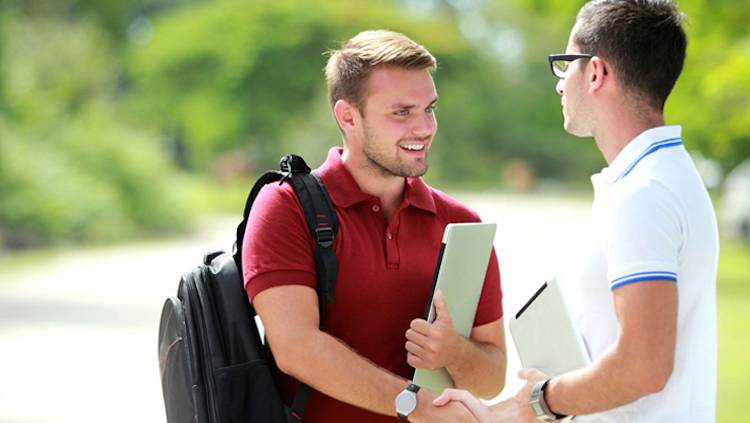 6 Tips to Networking Like a Boss While You're Still a Student
There's a stereotype that college students like to procrastinate a lot—they sleep late, dash off papers at the last minute, and waltz into class just as the lecture starts. And while that's true of some students, most know they can't be a Last Minute Louie if they want to succeed after they earn that degree.
It's advisable to start building networks now, as it will make finding that dream job after graduation that little bit easier. Here are 6 ways to start building your network today!
Connect with faculty
We've all heard the saying, "it's all about who you know." Many students tend to forget that professors are one of the most valuable connections for the future. And here's the cool part: as these Penn state professors revealed, your profs want to connect with you, too!
Professors can provide you with job-hunting advice and tell you about opportunities that would otherwise not enter your orbit. For instance, professors in creative fields like design and writing often know about internships and competitions from their extended network. If you were a good student, what better way for a professor to brag about how much they've taught you? They will be eager to show a potential employer your skills and knowledge.
Go to events
---
Connecting with professors is a great first step in the right direction; now it's time to go even further with off-campus networking. You can easily check for events on local community websites. Or alternatively you could try a site like Conference Monkey, which helps professionals and students connect at events worldwide.
Another option: get an app that can direct you to events based on your interests. Apps like Meetup work well because you can search based on career or personal interests. It's best to do a little of both. If you're studying business, you need to meet others in your field. But if you're a business student who happens to love cycling, join a cycling group as well--you just might meet someone who can help your career.
➲ Subscribe to receive the best study tips for your college experience!
Personalize your portfolio
You never know who you're going to meet—or when. That is why having your personal portfolio at hand when you meet a potential employer is vital.
First off, start with information about volunteering and extracurricular activities - showing your personal dedication is always valuable. Many students make the mistake of including as much information as possible. Instead, my advice would be to focus only on the things that stand out and you are proud of. Last but not least, make sure you leave your personal contact information, so employers can get in touch with you!
What will set your portfolio apart from all the other candidates is your unique touch. Start by creating your own template, where you can add an original logo or monogram to mark each page as yours. You can also invest in a personalized binder with an eye-catching design that will set you apart.
Take advantage of career services
The whole point of college is to prepare students to join the workforce, so it's best to look to your school for guidance if you're not sure where to start. Most universities have a career center that can help you find job fairs, write your resume, search for internships, locate grad schools and even provide you with gap year options. What is more, many schools organize job fair events where companies' representatives meet soon-to-be-graduates. Make sure to visit one and check the options that are available.
You can also supplement your university's resources by using websites that help you look for events, conferences, and even jobs. For instance, INOMICS connects economics and business students with dozens of great resources. Some schools, like the University of Michigan, take it a step farther. U of M's career center offers dozens of resources to help students explore career options, internships, grad schools, and even gap years. They also offer a truly innovative idea: the Clothes Closet, which provides free professional attire to all U of M students.
Work, work, work, work!
---
Working their way through school is the last thing many students want to do. They'd rather study, participate in extracurricular activities, or spend time with friends. While those things are certainly valuable, working even a handful of hours a week will go a long way towards helping you get a job after graduation.
By the way, "work" includes internships. Recent studies show that a paid internship during college can increase your chance of getting a job by roughly 25%, compared to students who had no internship or worked in an unpaid position. We highly recommend it, and it's a sure-fire way to get one step ahead of your colleagues!
Know your value
Which brings us to our final point: know what you're worth. College students tend to sell themselves short. Since they're young and lack career experience, they think they won't be valuable to a company. But that's crazy!
Companies are actively seeking millennials because they're shaping corporate values. For instance, more than half of millennials want jobs that both fulfill their personal passions and support a cause in the community, while 76% see business as a way to make a positive social impact. This is strong evidence of the power of the generation and their willingness to affect positive change in the workplace.
Believe it or not, companies are responding to this push for social justice. Brands like Bank of America and GE match their employees' charitable contributions—there's even gift matching software designed to help small businesses help their employees give back to the community. Which just goes to show that you're part of a powerful generation—and you will affect change in the workplace when you get there.
---
SIMILAR BLOG POSTS
➲ Tips For Students: How To Find A Part-Time/Student Job To Finance Your Studies
➲ Top Apps for Students for iPhone & Android
➲ 9 Extracurricular Activities To Boost Your CV During Your College
➲ How To Balance Your Course Load As An Undergraduate