Are you interested in international politics, law and justice? Are you curious to see how international relations influence international law? Then this programme is perfect for you!
The bachelor's programme in International and European Law takes three years. The first year teaches just about all basic law fields and is therefore broad in character, with concepts of private law, constitutional law, and criminal law discussed. In the second year, European Union law and public international law will be discussed to be a much larger extent, as well as research methods and training. The third year ends your bachelor programme by writing a thesis on a subject of your choice in law, which will be defended in front of supervisors and fellow students. This third year also requires students to study one semester at a university abroad. There is an interdisciplinary component in each year of this program.
Programme
1st year

The first year will give you a strong basis in law that is used within states. All courses approach the fields of law on a conceptual basis and no national system is being discussed as such. The only exception being the course 'Law and legal skills: the Dutch example', which explains what law is and in this course the Dutch example is used as a red thread. Students will also be taught the necessary academic legal skills.

2nd year

The second year provides students with a good overview of law between states, both on an international level as within the European Union. The research seminars will combine the legal skills of the first year with the content of the second year courses, enabling students to deliver sound legal arguments.

3rd year

In the first semester of the third year, students study a full semester abroad (at least 25 ECTS in law courses; 30 ECTS in total) at one of our partner universities. Students can pick courses in more specific fields of law in which they would like to specialize. In the second semester students combine all acquired skills and knowledge in producing a Bachelor's thesis (the Interdisciplinary Research Colloquium) on a topic of their choice.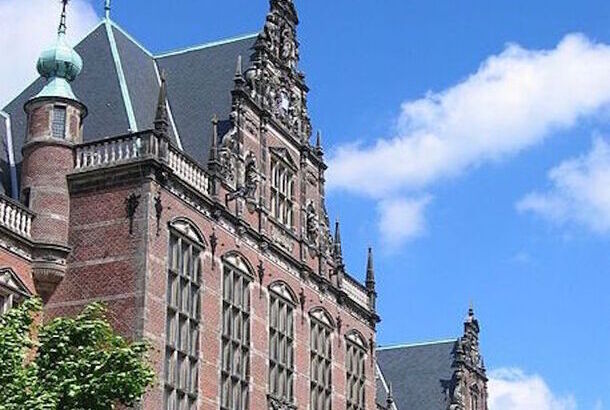 Start Date:
End Date:
Program Duration:
36 Months
Application Deadline:
Expired
Fees
Regular fees: 2006 EUR
International Fees : 2006 EUR
Location
Netherlands
Groningen
Application Deadline:
Expired
Hoendiepskade%2023%2F24%2C%209718%20BG%2C%20Groningen%2C%20Netherlands